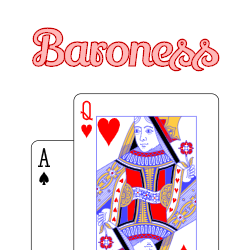 Welcome to Baroness (Thirteens)!
Here's the rules of this game:
Five columns are in play, you simply remove any two open that add up to 13. Kings are discarded alone.
One deck is in play.
Tap the cards you want to discard.
Kings, Ace-Queen, Jack-Two, 10-3, 9-4, 8-5, 7-6.
Hit discard.
Hit deal to get a new row dealt.
If there's nothing left to discard, the game is over.
Remove all the cards to win the game.
Got it, let's play!
Sign In!
Sign In (or register first!) and have your scores saved. Keep track of your personal besties ever. And also be able to play Cards Against Humanity.
Sign In Register
Pay What You Want
These games are provided Ad-Free. If you like these games and would like to pay what you can to help inspire me to create more games, tap here.
PWYW Payments