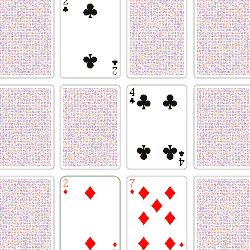 Welcome to Pairs!
Here's the rules of this game:
This is a one-player, game of memory using the cards Ace to 8.
Only 16 cards in play.
Cards are presented in a 4x4 grid.
Pick a card to flip it.
Pick a second card to flip it.
If it's a match, you get the point.
If it's not, they're turned back over.
Win the fastest to be on top o the leader board.
Got it, let's play!
Sign In!
Sign In (or register first!) and have your scores saved. Keep track of your personal besties ever. And also be able to play Cards Against Humanity.
Sign In Register
Pay What You Want
These games are provided Ad-Free. If you like these games and would like to pay what you can to help inspire me to create more games, tap here.
PWYW Payments